Satchel Paige all-time great  Satchel Paige all-time great
President Biden made an insensitive, imbecilic, and seemingly out-of-place statement during his Veterans Day speech. He called Leroy Satchel Paige a "great negro at the time."
I know you are a little younger than I am, but you know, I've adopted the attitude of the great negro at the time — pitcher in the Negro league who went on to become a great pitcher in the pros — in the Major League Baseball after Jackie Robinson."
That statement connotates that he was only great when compared to other African Americans. That's crap! Leroy Satchel Paige wasn't a "great negro at the time," he was possibly the best professional baseball pitcher in history (Satchel was his nickname).
Cy Young, Christy Mathewson, Walter Johnson, Bob Gibson, Sandy Koufax, and Tom Seaver were great pitchers. But the greatest pitcher ever to play professional baseball was named Leroy Satchel Paige. One of the greatest hitters of all time, Joe DiMaggio, once called Satchel Paige "the best and fastest pitcher I've ever faced."
Indeed, Paige had the rare combination of throwing heat, painting the black, and having a rubber arm.
Page was not only a great pitcher but a consummate showman. More than once, he'd call in his outfielders to the infield and then single-handedly struck out the other side. During a Negro League World Series game in 1942, he intentionally walked two batters to face power hitter Josh Gibson with the bases loaded. Gibson was the Babe Ruth of the Negro leagues, and if he was allowed to play in MLB may have been better than Ruth. He was the only man in history, in any professional league,  to hit a home run clear out of the old Yankee Stadium. After loading the bases in this World Series stunt, Paige taunted Gibson and told him where he intended to place each throw– the great Josh Gibson struck out in three pitches.
The Negro Baseball League contained players who would have been superstars in what we now call Major League Baseball. Paige didn't get to play for MLB until he was 42 because he was black, and sadly before Jackie Robinson, baseball was all-white. Even past his prime, at the age of 42, Satchel Paige had a fastball that could stun batters.
Before he was signed by the Chicago White Sox, Satchel played in the Negro professional leagues. During the off-season, he pitched for teams in the Caribbean and Central and South America. As a barnstorming player who played against other barnstorming teams filled with players from the MLB and Negro leagues, who traveled thousands of miles each season and played for whichever team that met his asking price, he pitched an estimated 2,500 games, had 300 shut-outs, and 55 no-hitters. In one month in 1935, he reportedly threw 29 consecutive games.
Satchel Paige played parts of six seasons in the major leagues. His W-L  record was 28-31, and he had a 3.29 ERA (his last MLB pitch was thrown in 1965 when he was 59 and pitched three innings, allowing only one hit.
Stats don't tell the whole story of the man who was kept out of the major leagues until he was in the declining years of his career.  From the stories his contemporaries tell,  if there were no restrictions against blacks in MLB, he would have been known as the greatest MLB pitcher ever.
Along with being a great pitcher, Leroy "Satchel" Paige was a master of home-spun philosophy. Some of his quotes are still famous. My favorite of which was, "Don't look back. Something might be gaining on you."
Some of his other great statements were:
"Age is a question of mind over matter. If you don't mind, it doesn't matter."

"Work like you don't need the money. Love like you've never been hurt. Dance like nobody's watching."

"You win a few, you lose a few. Some get rained out. But you got to dress for all of them."

"I never rush myself. See, they can't start the game without me."

"It's funny what a few no-hitters do for a body."

"Don't pray when it rains if you don't pray when the sun shines."

"Ain't no man can avoid being born average, but there ain't no man got to be common."

"Money and women. They're two of the strongest things in the world. The things you do for a woman you wouldn't do for anything else. Same with money."

"Mother always told me, if you tell a lie, always rehearse it. If it don't sound good to you, it won't sound good to no one else."

"Don't eat fried food, it angries up the blood."

"How old would you be if you didn't know how old you are?"
Biden quoted that last Paige statement in his Veteran's Day speech.
Due to his apparent loss of mental capability, there is so much Biden doesn't comprehend. Sadly there is much more that he can't remember. With statements like the one he made about Leroy Satchel Page, Biden not only sounded awkward but like he was verbally tripping over his own underwear.
Satchel Paige had a long career as a professional baseball player but was cheated out of a long career in the MLB by segregation.  For baseball fans, even worse was that we were cheated out of seeing possibly the greatest pitcher who ever lived.
Even though he never looked back, death finally gained on Leroy Satchel Paige on June 8, 1982.
If you haven't figured it out as of yet, I am a fan of Paige. Below is a short video about Satchel Paige's career:
The Lid Store
Part of the purchase of these Items helps pay The Lid's expenses. Here are Three T-Shirts From The Store. They come in all sizes and colors. Please consider buying.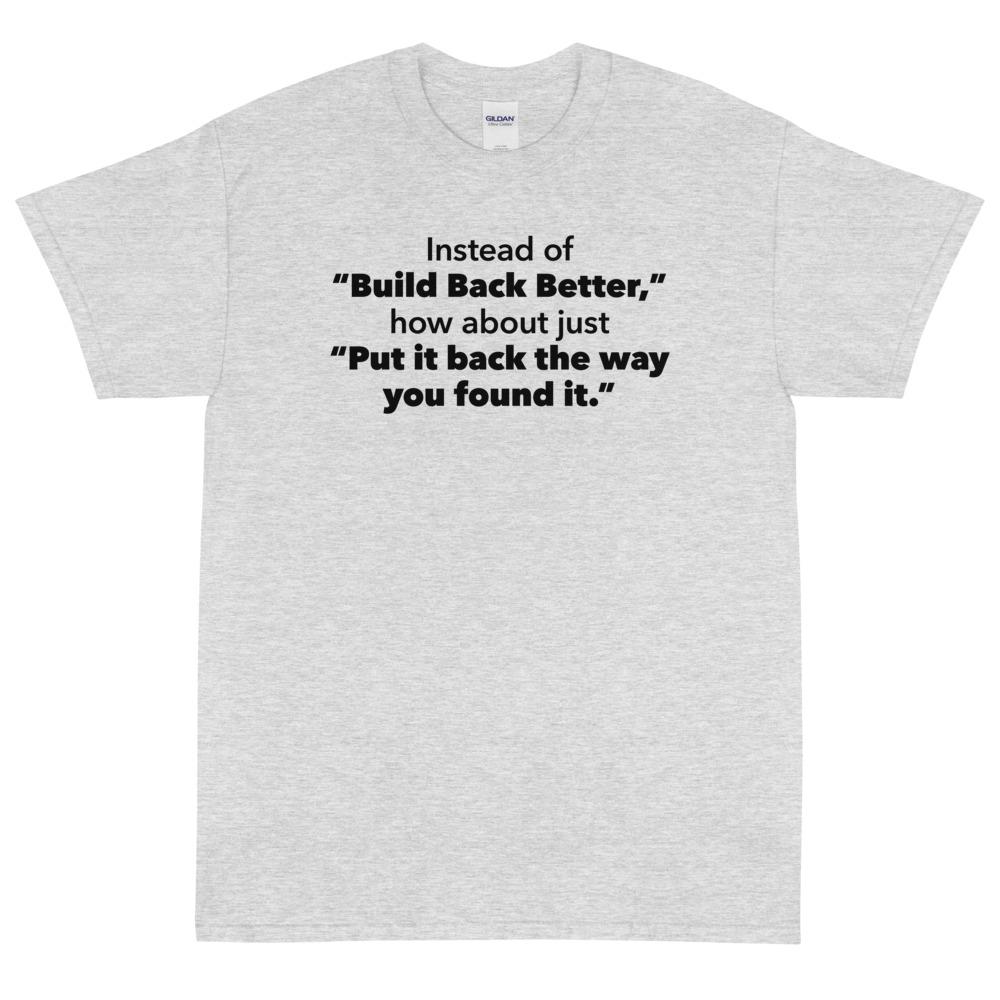 Instead Of "Build Back Better" How About "Put It Back The Way You Found It" Premium Unisex T-Shirt  $23.95
---
Make Tweets Mean Again Premium Unisex T-Shirt $22.95
---
I Don't Fear Covid. I Fear Losing Freedom Unisex T-Shirt $22.95
build back better spending bill
Satchel Paige all-time great 
Satchel Paige all-time great
Satchel Paige all-time great