build back better spending bill
"By all accounts, the threat posed by record inflation to the American people is not 'transitory' and is instead, getting worse. From the grocery store to the gas pump, Americans know the inflation tax is real, and D.C. can no longer ignore the economic pain Americans feel every day."
That was Sen. Joe Manchin (D-W.Va.) on Twitter, accurately noting that inflation is worsening under President Joe Biden's tenure. The Bureau of Labor Statistics reported on Nov. 10 the Consumer Price Index has risen to 6.2 percent annualized, the highest inflation since Oct. 1990, when it rose to 6.4 percent. It had been registering 5.2 percent the past three months as the price hikes have become a standard feature of the Biden economy.
And, of course, inflation is now worsening. Congress keeps spending money it does not have while the Federal Reserve is printing money to purchase U.S. treasuries. The latest is the $1.2 trillion infrastructure legislation that includes $550 billion of new spending.
Since Jan. 2020, the national debt has increased $5.7 trillion— $3.2 trillion of which was monetized by the Fed with quantitative easing — to $29 trillion as Congress responded to the Covid pandemic, state-led lockdowns, and the ensuing recession it caused. First was the $2.2 trillion CARES Act and the $900 billion phase four legislation under former President Donald Trump, and then the $1.9 trillion stimulus and $1.2 trillion infrastructure bills under President Joe Biden.
That's $5.5 trillion of new spending in the past two years. That combined with the Fed's $4.4 trillion of quantitative easing of $3.2 trillion of treasuries purchases, and $1.2 trillion of mortgage-backed securities purchases, plus hundreds of billions more in emergency lending, and as a result, the M2 monetary base has increased more than 37 percent, or $5.6 trillion to $20.9 trillion.
But they're not through yet, with Congress now considering the add-on $1.75 trillion Biden spending bill, the so-called Build Back Better plan. That's actually smaller than the original $3.25 trillion proposal.
It will include $555 billion for green energy subsidies via tax credits, $400 billion for both universal pre-kindergarten for all 3- and 4-year-olds and child care subsidies by capping what is paid at 7 percent of income, $150 billion to build 1 million affordable housing units, health exchange insurance subsidies for 4 million uninsureds who live in 12 states that refused to expand Medicaid under the Affordable Care Act for four years, restore the state and local tax exemption for 2022 and 2023, and a $100 billion one-year extension of the $3,600 tax credit for children under six, and a $3,000 child tax credit for children over six.
The bill also raises taxes, according to the White House fact sheet on the proposal. It will "impose a 15% minimum tax on the corporate profits that large corporations—with over $1 billion in profits—report to shareholders… [and] includes a 1% surcharge on corporate stock buybacks… it'd adopt a 15% minimum tax on foreign profits of U.S. corporations… apply a 5 percent rate above income of $10 million, and an additional 3 percent above income of $25 million. close the loopholes [on]… the 3.8 Medicare tax."
Left out is $500 billion for universal paid family leave, $111 billion for universal tuition for two years of community college, $400 billion of the extended child tax credits another four years, and a plan to have the Internal Revenue Service monitor every bank account $600 and over.
With the legislation scaled-down and the infrastructure bill in the rearview mirror, this puts considerable pressure on vulnerable Democrats in the House and Senate who face reelection in the 2022 midterms, who are now demanding Congressional Budget Office (CBO) score of the legislation before voting for anything. If the CBO score comes in much higher than $1.75 trillion, that could be enough to kill the bill.
Which would be no skin off Sen. Manchin's nose. He'd rather not vote for any more spending bills. After all, if Manchin really believes "D.C. can no longer ignore the economic pain Americans feel every day" via inflation, he has to oppose the $1.75 trillion spending plan. We'll see.
Cross-Posted With Conservative Firing Line
The Lid Store
Part of the purchase of these Items helps pay The Lid's expenses. Here are Three T-Shirts From The Store. They come in all sizes and colors. Please consider buying.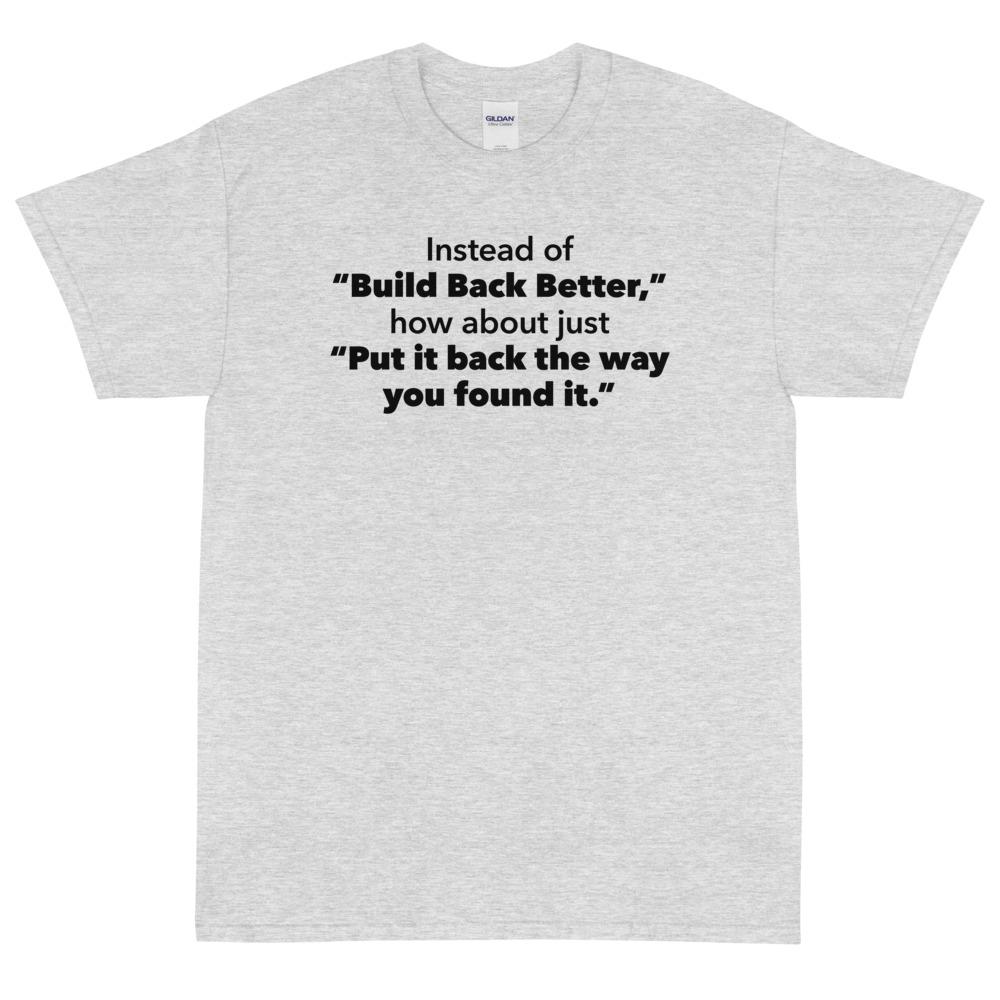 Instead Of "Build Back Better" How About "Put It Back The Way You Found It" Premium Unisex T-Shirt  $23.95
---
Make Tweets Mean Again Premium Unisex T-Shirt $22.95
---
I Don't Fear Covid. I Fear Losing Freedom Unisex T-Shirt $22.95
build back better spending bill