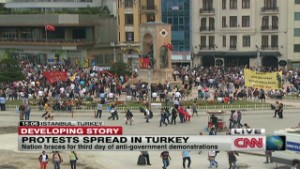 The cause for freedom usually happens with a small stand! On Friday a small demonstration started of the Turkish government's plan to tear down a small park in the center of Istanbul, and replace it with a shopping area has turned into a major protest against Islamist Prime Minister Recep Tayyip Erdogan. The park has long been an iconic rallying point for mass demonstrations and its destruction was seen as a fight against free expression.
As of today both sides are digging in, the now-angry protests show no sign of easing and the Islamist Erdogan shows no inclination to give in to their demands. Erdogan blamed the main secular opposition party for inciting the crowds, and said the protests were aimed at depriving his ruling AK Party of votes as elections begin next year.
"We are servants of the people, not masters. We did not use violence," the Prime Minister said before leaving for a four-day trip to North Africa. Those in Turkey who speak of the Turkish Spring are right; the season
is, in fact, spring," he said. "But there are those trying to turn it
into a winter."
Turkey was a relatively "westernized" country till Erdogan took over ten years ago, since that time there has been a tension between the military, the Islamists and the people wishing the country would return to its less repressive "secular ways."
take our poll - story continues below
Who would you vote for if the elections were held today?
Completing this poll grants you access to The Lid updates free of charge. You may opt out at anytime. You also agree to this site's Privacy Policy and Terms of Use.
Meanwhile, the interior ministry urged residents to not take to the streets Monday.
"We invite our citizens especially our youth to act with common sense and sensitivity and refrain from taking part in these illegal demonstrations being carried out by certain groups today, the day when the work week begins," it said.
The protest movement seems to be spreading:
There have been protests in 67 of Turkey's 81 provinces in recent days, according to Turkey's semi-official Andalou News Agency. More than 700 people have been detained since Tuesday, and most have been released, the agency said. Fifty-eight civilians are still hospitalized and 115 security officers have been injured.

"There is civil police arresting people all over the place," Cenker Kardesler, a 30-year-old businessman, said by phone from Adana on Sunday. "The police tried to corner the people.
They came at us from both sides."
In Istanbul where the protests started the crowds have been chanting "Tayyip resign" referring to Erdogan — and "Shoulder to shoulder against fascism."
"We have a prime minister who has done great deeds and he really has run the economy well," she said. "But you also have this paternalistic style: 'I know what's good for you. I, as your father, can decide on the park, the bridge, the city and the constitution.' So, I think people are just wanting to have a more inclusive form of democracy in Turkey."
The protesters say that the park is no longer the issue:
"This park was just the ignition of all that," said Yakup Efe Tuncay, a 28-year-old demonstrator who carried a Turkish flag while walking through the park Saturday. "The Erdogan government is usually considered as authoritarian. He has a big ego; he has this Napoleon syndrome. He takes himself as a sultan. … He needs to stop doing that. He's just a prime minister."
No one really knows what will happen next, this may end up to be a different kind of Arab Spring one where the people oust a democratically elected but repressive Islamist regime.
SOURCE: UK Daily Mail