Rasmussen reports have two different ways to look at presidential approval, the normal approval ratings and a comparison of those who strongly approve of the president and those who strongly disapprove of the president. The first number allows you to compare trends to those of other questions asked, the second is the true indicator of president's political future as those who feel strongly are more likely to work for or against a cause.
Today's Rasmussen daily presidential tracking poll shows that 26% of the nation's voters strongly approve of the way that Barack Obama is performing his role as President, a record low. Thirty-nine percent strongly disapprove giving the POTUS -13 approval index which is tied for a new low for this President. It is also the first time the President's approval index has been in double digit negative territory for an entire week.
As you might expect the president's best performance is amongst Democrats 50% strongly approve, and his worst performance is among the GOP, 66% of republicans strongly disapprove. The key independent group is a bad omen for the president with a -24 index 918% Strongly Approve and 42% Strongly Disapprove).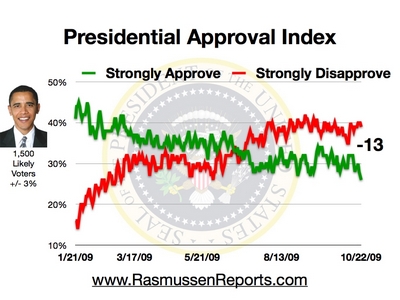 take our poll - story continues below
Who would you vote for if the elections were held today?
Completing this poll grants you access to The Lid updates free of charge. You may opt out at anytime. You also agree to this site's Privacy Policy and Terms of Use.
The overall numbers are poor also, 47% of voters say they at least somewhat approve of the President's performance. Fifty-two percent (52%) disapprove.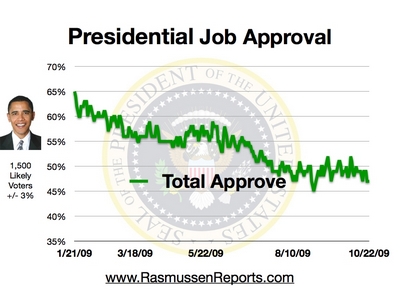 One reason for the disapproval of the president can been seen in a different Rasmussen poll. Each week they ask voters whether or not the US is on the right or wrong track. The first poll after Obama took office 62% of American voters felt that the country was on the wrong track the latest report shows that 61% feel the country is on the wrong track. Not much "hope" for "change."