Granted most of the poll was conducted before his skirt around the issue yesterday but in the latest Gallup Poll, the Senator from Illinois has gone from a three point lead before the Wright scandal to a seven point deficit to Hillary today. Both Democrat have fallen verses McCain.
Gallup Daily: Clinton Moves Into Lead Over Obama McCain has edge over Democrats in general election USAElection 2008 Gallup Daily AmericasNorthern America
PRINCETON, NJ — New Gallup Poll Daily tracking finds Hillary Clinton with a 49% to 42% lead over Barack Obama in national Democratic voters' presidential nomination preference.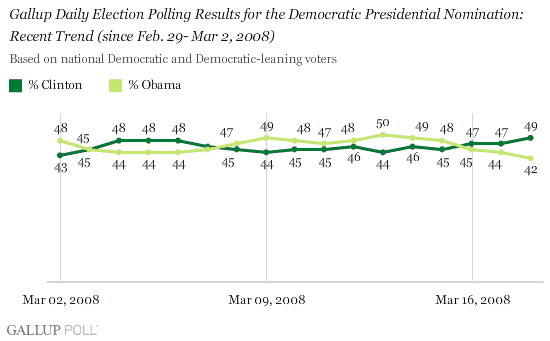 This is the first time Clinton has held a statistically significant lead in over a month. She last led Obama in Feb. 7-9 polling, just after the Super Tuesday primaries. Since then, the two candidates have usually been in a statistical tie, but Obama has held a lead in several of the polls, most recently in March 11-13 polling. Obama's campaign has been plagued by controversial remarks made by his former pastor, Rev. Jeremiah Wright. Obama delivered a major speech on race Tuesday to try to move beyond the controversy. The initial indications are that the speech has not halted Clinton's gaining momentum, as she led by a similar margin in Tuesday night's polling as compared to Monday night's polling. John McCain may be benefiting in the short-term from the highly charged Democratic race. He holds a statistically significant lead over Obama, 47% to 43%, in registered voters' preferences for the general presidential election. That is the first time any of the candidates has held a statistically significant lead since Gallup Poll Daily tracking began reporting on the general election race last week. McCain's 48% to 45% advantage over Clinton is not statistically significant, but it is the first time he has had an edge over her in Gallup Poll Daily tracking. — Jeff Jones