Lou Holtz is universally known as a great college football coach and motivational speaker. He has spent decades giving pep talks, both on and off the football field. The man has been able to inspire though many bad times, heck, he even got through almost an entire full season as the Coach of the NY Jets. But there is one thing which has destroyed the motivation of the legend, the re-election of Barack Obama.
House Speaker Boehner gave an address to the Ripon Society this week and revealed that he has had to motivate Holtz a few times since election day.
""Pat [Tiberi] got an email from a mutual friend: 'I'm finished – done – I'm not doing this anymore. Don't send me anymore fundraising appeals. I've had it!' Last night, I got a three-page text from my good friend Lou Holtz, who must have watched the Inaugural and then all that blabber on TV…: 'I'm done, finished, the country's over with — we're not doing this again!' Now, I had already had this conversation with Lou about nine or ten days after the election. He came in to speak to our 34 new Members. And before he went over to talk to them, he came over to my office, and he was moaning and groaning. I said, 'Lou, would you stop it? We're Americans, we'll figure this out!' And I had to spend 15 minutes giving Lou Holtz a pep talk! I had to do it again last night!"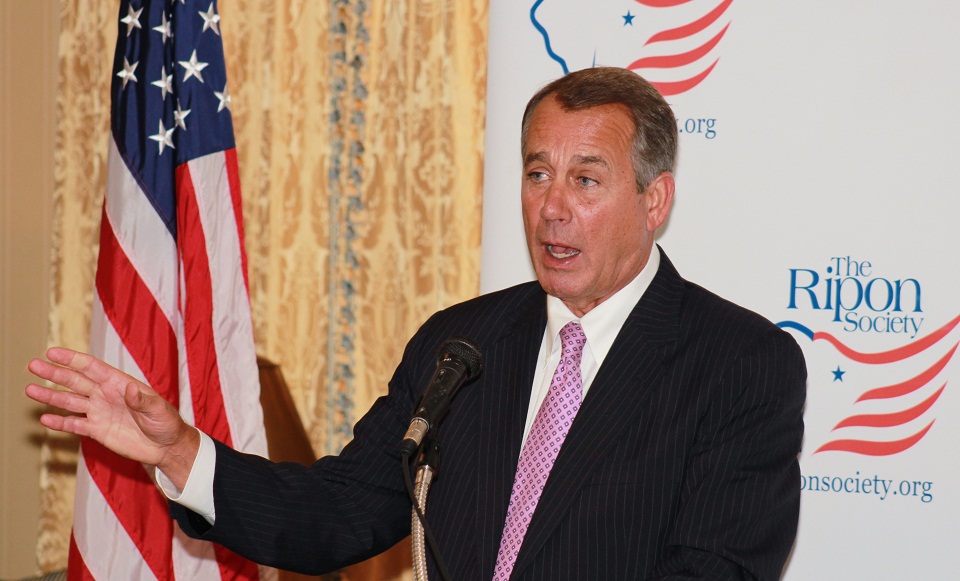 "But listen, we are Americans and we will figure this out. These next couple of weeks, next couple of months, frankly, the next 20 months, are going to be a very difficult period for us. While we want to stand up and fight for more fiscal responsibility, want to stand up and find a way to move tax reform that will help our economy grow, to do the things we believe in, we're going to be doing it in an environment that is going to be far more hostile than anything that I think we've seen for a long, long time. We're going to have to make some big decisions about how we as a party take on this challenge. Where's the ground that we fight on? Where's the ground that we retreat on? Where are the smart fights? Where are the dumb fights that we have to stay away from? We've got a lot of big decisions to make. And while a lot of the retreat unfortunately got focused on the next 90 days, there needs to be further work to talk about how we're going to navigate the next 20 months and what our goals are and how do we defend ourselves in what I do believe is going to be a very hostile environment. All I know is I'm up for the fight."
We are all up for that fight Mr. Speaker. I just how this time…you DO fight!