On Saturday, just before the Senate's middle of the Sunday night/Monday Morning vote on Obamacare , Rasmussen was reporting the Presidents approval index (the difference between those who strongly approve of the way he handles his job and those who strongly disprove) had made a slight comeback from its low of -19 and was resting at -14. Of course that was just before we learned that Ben Nelson changed from pro-Life to pro-Choice and Democrats had cloture.
In the three days since the Democrats attained the 60 needed for cloture the president's approval index dropped by 50%, today Rasmussen is reporting Obama is at a record -21. Forty-six percent of voters Strongly Disapprove of Obama and only 25% approve The -21 is lowest Approval Index rating yet recorded for Obama. The 46% strong disapproval is also a record.
Fifty-three percent (53%) of men Strongly Disapprove along with 39% of women. Most African-American voters (58%) Strongly Approve while most white voters (53%) Strongly Disapprove.
take our poll - story continues below
Who would you vote for if the elections were held today?
Completing this poll grants you access to The Lid updates free of charge. You may opt out at anytime. You also agree to this site's Privacy Policy and Terms of Use.
Almost three quarters of Republicans Strongly Disapprove (74%) of the POTUS and more importantly is the 52% of independents who strongly believe he is doing a bad job. With-in the President's own party, only 47% of Democrats Strongly Approve.
For the second straight day, the update shows the highest level of Strong Disapproval yet recorded for this President.
Overall, 44% of voters say they at least somewhat approve of the President's performance. Fifty-six percent (56%) now disapprove.


Seventy-seven percent (77%) of Democrats approve while 88% of Republicans and 62% of unaffiliated voters disapprove.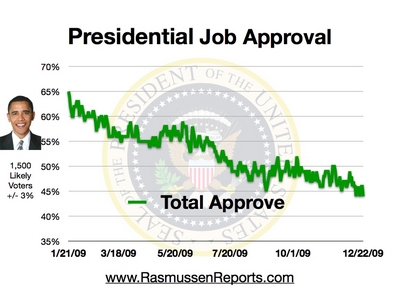 This past Sunday Presidential adviser David Axelrod said that he did not believe that, the public's objections to Obama's policies would signal a bad 2010 election year for the POTUS. Looking at these numbers, I humbly suggest he reevaluate his stance. Obamacare will be the death of the Democratic Party in 2010.