Earlier this week the Democrats were throwing a party because Senator Obama opened up a large 9 point lead in the Gallup Tracking Poll. Over three months before an election you are going to see wide swings both ways, but todays poll shows the Obama lead down to FOUR points. Approximately what they were before Obama took his premature victory lap in Europe. The trip can now be labeled an expensive FAILURE. Gallup's Results follow:
Gallup Daily: Presidential Race Tightens to 4 Points Obama leads McCain, 46% to 42% USAElection 2008
PRINCETON, NJ — After moving into a nine percentage point lead over John McCain in Gallup Poll Daily tracking of national registered voters this past weekend, Barack Obama now leads by just four points, 46% to 42%.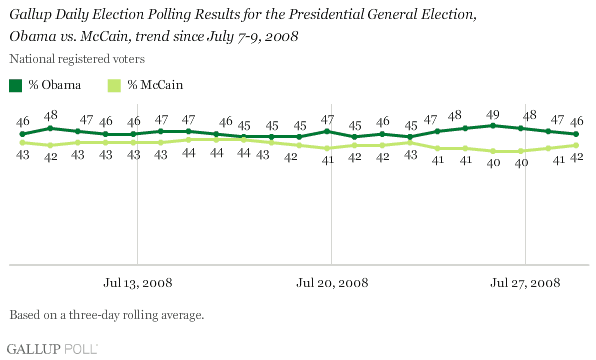 Today's results are based on Gallup Poll Daily tracking from July 27-29. The percentage of voters favoring Obama for president swelled from 45% in July 21-23 tracking, conducted at the outset of Obama's weeklong visit to Europe and the Middle East, to 49% in July 24-26 interviewing conducted at the height of publicity surrounding the tour. At the same time, McCain's support ebbed from 43% to 40%, and the percentage of undecided voters fell from 7% to 4%. With Obama now back on U.S. soil and filling less of the nightly news, voter preferences have reverted to their pre-trip levels. (To view the complete trend since March 7, 2008, click here.) — Lydia Saad